Касаться этой темы опасно, так как можно часами разглядывать все эти красивые штучки. Многие из них давно ушли в прошлое- крючки для шнуровки платьев, корсетов и обуви, плойки на углях и т.п. Здесь лишь малая часть того, что есть в музеях и продается на аукционах. Большая часть предметов сделана из серебра, черепахи,полудрагоценных поделочных камней, но в 20 веке уже стали применять металл и пластик. Мужчины уделяли своей внешности не меньше внимания, чем дамы. В 17 веке и в эпоху рококо они пользовались косметикой вовсю- пудра, румяна, помада и парики были для высшего сословия обязательными. Да и по роскоши костюма они не отставали от дам.
туалетный столик,Лувр
Вот вроде бы простой ящичек-кофр, а внутри-
Toilet Set in Original Leather Case, ca. 1743–45
Augsburg, Germany
Toilet Set in Original Leather Case, ca. 1743–45
Augsburg, Germany
Silver marked by fourteen goldsmiths
Gilt silver, hard-paste porcelain, cut glass, walnut, carved and partially gilt coniferous wood, blind-tooled and partially gilt leather, partially gilt steel and iron, textiles, moiré paper, hog's bristle; case 16 1/2 x 28 in. (41.9 x 71.1 cm), H. with lid 37 3/4 in. (95.9 cm), gilt-silver mirror 29 1/2 x 23 1/2 in. (74.9 x 59.7 cm)
Toilet Set in Original Leather Case, ca. 1743–45
Augsburg, Germany
Toilet Set in Original Leather Case, ca. 1743–45
Augsburg, Germany
--------------Косметические наборы--------------------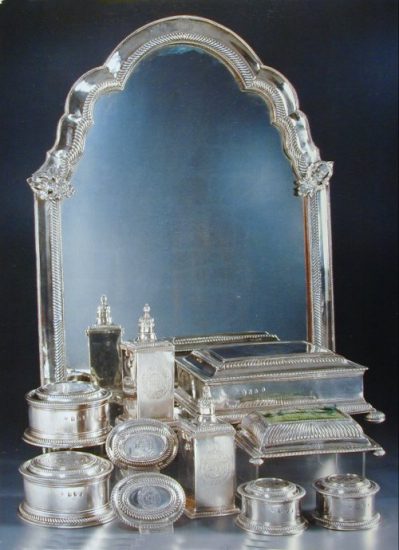 silver toilet set comprising table mirror,
casket, boxes and brushes.
London 1699
Hallmarked sterling silver dressing table set, consisting of a hand mirror, hair brush and clothes brush, made by B & Co
England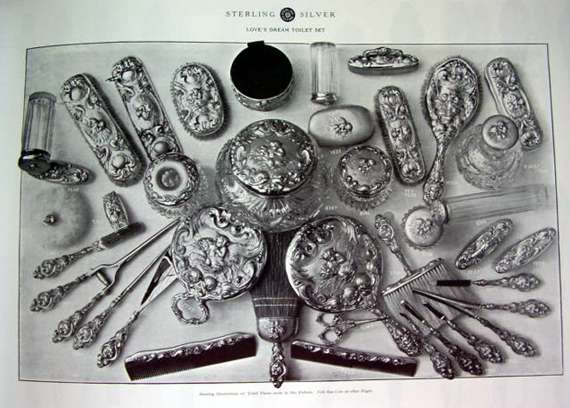 Five piece boxed dressing table set, hallmarked for Birmingham 1925
England
Черепаховый сет.
Oriental twelve piece tortoiseshell vanity set, in its original velvet covered case
Walker & Hall sterling silver and enamel boxed brush and mirror bedroom set
United Kingdom, circa 1920
ANTIQUE SILVER AND ENAMEL DRESSER SET CIRCA 1930 $5,500.00 set
ENGLISH STERLING AND ENAMEL ART DECO DRESSER SET 1928
years 1927 and 1928 Price: $4,500.00
ANTIQUE SILVER AND ENAMEL ART DECO DRESSER SET 1931 Price: $1,150.00
Lady's three piece dressing table set with brass filigree
Australia, circa 1930
НАБОР ИЗ ЗЕЛЕНОГО ХРУСТАЛЯ
Green crystal dressing table set, including a hand mirror, brush, comb, trinket dish, scent bottle, deco alarm clock and a covered bowl
Czechoslovakia, circa 1930
Six piece Art Deco style black and chrome dressing set
Australia, circa 1950
Brush and mirror set, featuring sculptured roses set in plastic
circa 1950
Boxed sterling silver set of two brushes, a comb and a mirror, all embossed with angels, hallmarked for Birmingham 1955
--------------ПУДРЕНИЦЫ--------------
Rouge pouch in embossed silver with a mirror inside
France, circa 1880,
Antique Italian Sterling and Enamel Compact and Lipstick Set. A great set that features an enamel scene of two lovers in the park and he holds a bird in his hand. The lipstick features the same scene - so it is a matched pair and not two pieces put together.
Antique French Dore Bronze jewel Casket. The top is of guilloche metalwork with a center hand painted portrait on ivory. The painting, in the style of Frances Boucher. The sides have repousse work in the Empire motifs as well. We date this to be late 1800's.
---------------ПОМАДА-------------------
Engraved sterling silver lipstick/make up case, complete with a hinged mirror and lipstick holder
England, circa 1910
-----------Щетки и расчески для волос-----------
Three piece Edwardian sterling silver mirror and brush set with original bevelled mirror
circa 1904
Sterling silver backed hairbrush with a cherub motif, hallmarked for London 1904
Sterling silver brush and comb set with a cupid motif, hallmarked Birmingham 1894
England
Silver hairbrush, with pure bristles and a cherub and grape vine design
England, circa 1930
-----------ЩИПЦЫ ДЛЯ ЗАВИВКИ----------------
Sterling silver hair curlers, hallmarked for Chester 1899, made by JDWD
England
Edwardian hair curlers, with ornate silver plated handles
England, circa 1910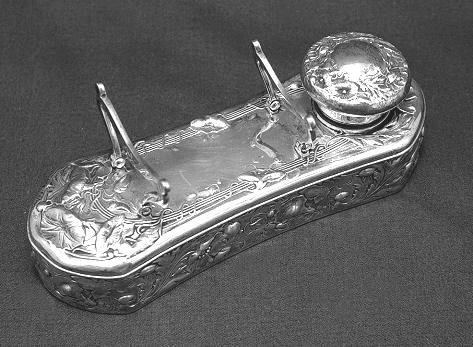 Дорожный нагреватель для щипцов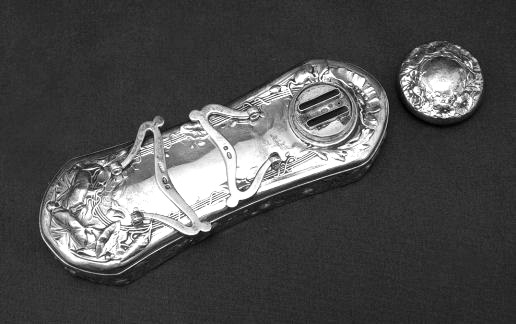 Дорожный нагреватель для щипцов
-------------ТУАЛЕТНЫЕ СТОЛИКИ------------------------
Dressing Table and a Clock Case , Mid-18th century
Russia
Dressing Table , Circa 1817
France
A Very Fine French 19th Century Louis XVI Style Gildwood Carved Salon Center Table with a Veined White Marble Top. Circa: Paris, 1890.
A Very Fine and Palatial French 19th Century Empire Style Gilt-Wood Carved Figural Center Table with Figures of Winged Eagles, Wreaths, a Bull and ending in Lion Paws over a sphere, with a veined green marble top (Marble top is not the original). Circa: Paris, 1880.
Italian Dressing Table
A Very Fine French 19th Century Louis XV Style Kingwood and Tulipwood Parquetry and Figural Ormolu Mounted Lady's Desk. Circa: Paris, 1880.
Late victorian mahogany framed duchess dressing table. Centre mirror with 3 drawers each side and long drawer below plus a secret drawer all standing on long frontal supports.Description 1885
H.M. King Rama V's dressing table with hand-cut crystal
toilet set which belonged to H.R.H. Prince Maha Vajirunhish,
the first Crown Prince in the history of Thailand
Georgian Mahogany washstand. Opening center drawer. Dummy drwaer at each side. Center cut out for bowl and side cut outs for receptacles.Description Georgian.
Столики для умывания, их я покажу позже.
-----------Зеркала настольные------------------
A Very Fine French Early 18th Century Régence Figural Giltwood Mirror. Circa: Paris, 1730
A Palatial Museum Quality Italian 18th Century Florentine Rococo Gildwood Carved Mirror with Scrolls and All Original 24kt. Gilding. Circa: 1750
A Very Fine French 19th Century Louis XV Style Gildwood Carved Figural Mirror with Cherubs. Circa: Paris, 1890.
A Very Fine and Large English 19th Century Chippendale Style Giltwood Carved Figural Mirror. Circa: London 1870
Very Fine French 19th Century Louis XV Style Gildwood Carved Figural Mirror Frame, Surmounted with Two Cherubs, a Mask of Bacchus, Flower Vases and Foliage. The mirror panels are all beveled crystal with stars. Circa: Paris, 1880
All Original 24kt Gilding.
A Very Fine Italian 19th Century Gildwood Carved Rococo Mirror Frame with Masks. All 24kt gilding original. Circa: Venice, 1870.
A Very Fine French Empire Napoleon III Gildwood Carved Figural Mirror Frame with Winged Sphinxes and centered by a Satyr Mask. Circa: Paris, 1870
A French Louis XV Style Belle Époque Gildwood Carved
Oval Mirror. Circa: Paris, 1900
Flamboyant scrolling framed gilt mirror in Rococo style dating from the late 19th Century.
Fine late 19th Century French Napoleon III gilt wall mirror crested with ribbon and foliate gesso work crest surmounting extensively carved relief moulded frame enclosing original bevel plate mirror.
A Very Fine Pair of French Art-Nouveau Gildwood and Finished Carved Mahogany Mirrors, each with carvings of leaves, Branches and Large Flowers. Circa: Paris, 1910
--------------------РУЧНЫЕ--------------
--
Fine quality antique French bronze vanity set c 1800 -1850.
Sterling silver hand mirror, hallmarked for Birmingham 1913, marker BP/DC
England, 16 cm wide
Napoleon III gilt bronze hand mirror, with bevelled glass,1885г
Hand painted ceramic mirror, signed 'Marius'
France, circa 1880
Heavily embossed sterling silver hand mirror, depicting cupids and arrows
England, circa 1892
Sterling silver mirror with floral decorations, hallmarked for 1912
England,
---------------КОРОБОЧКИ и ШКАТУЛКИ------------------------
Empire Small Box
Antique Pietra Dura Mosaic Box Casket
Antique Bronze Casket or Jewelry box with exceptional bas relief detail, in deep relief with a host of horses on all four sides and top.
Antique Sterling Silver Serpentine Box - Vermeil Interior
Antique Sterling Silver Serpentine Box - Vermeil Interior
Antique French Enamel Dore Bronze miniature Portrait round Box, signed.
Superb Antique Baccarat Hand Cut Crystal hinged Jewelry Casket, Box. Rectagular in shape and having a decorative dore bronze band on both the top and bottom rim and a front keyhole on front. The cut crystal is a deep cut Diamond Pattern on Top and All Sides.
A Beautiful French Bronze Egyptian Revival five sided hinged Jewelry box casket. Fabulous gilt bronze mounts with beveled glass on all sides. The interior has a silk moire fabric trimed with a red rope trim.
A very fine 19th century French sterling silver jewelry box. The dresser box is round in form and opens to reveal a vermeil interior.
French Dore Bronze Casket - Miniature Portrait On Ivory,1800
Victorian Bronze Box
Capodimonte Music Box and Jewelry Box
Antique Silver Ethrog Jewelry Box, Russia, 1830 Judaica
-----------------БАНОЧКИ И ФЛАКОНЫ--------------------------
glass dressing table jar with silver and tortoiseshell cover
Two late Victorian glass spirit flasks with silver screw covers and cups, London 1899; and a glass dressing table jar, London 1900
Antique Perfume Caddy Gilt Crystal
Palais Royal Caddy Scent Bottles
Palais Royal Caddy Scent Bottles
Palais Royal French Scent Caddy with original scent bottles early 19th century.
Antique Rococco style porcelain Scent Bottle Coalport, The scent bottle is beautifully hand painted gilt gold and exquisite yellow, pink and purple florals throughout.
Elaborate Antique French Grand Tour Eglomise gilt ormolu Scent Bottle and caddy. Beautiful scroll motifs surrounds the lid and the top of French blue Opaline scent bottle mounted on intertwined gilt floral motifs adorned with four hand painted scenes.
Stunning Baccarat Crystal Perfume Bottle crafted with beautifully detailed dore bronze and embellished with an acid-etched flower motif.
A beautiful Sterling Silver overlay Edwardian Crystal Scent bottle from the Edwardian era. Hand chased floral decoration. Estimated at 1910
Gorgeous Antique Italian Art Deco Black Amethyst Glass Perfume Bottle, Vanity and and Powder Jar with scrolling sterling overlay in an floral motif Perfume Bottle, Vanity. Circa 1930s.
Wave Crest Enamel Jewelry Box-Fine signed Wave Crest Enamel opal white glass jewelry box by C.F. Monroe C.F., a highly accomplished enamel artist. Heavily embossed swirl designs and the top with hand painted enamel floral sprays. Front lettering is painted gold gilt enamel - Collars and Cuffs.
позолоченый серебряный сет с бриллиантами. 1950
Boxed and unused 'Stratton' 21st Birthday beauty set, gold coloured, encrusted with filigree work and red, white and clear diamantes
An antique English Atomizer diamond cut Perfume Bottle circa early 20th century.
----------Одежные и обувные крючки для шнуровки и застегивания--------
Женщина в то время не могла ни раздеться, ни тем более одеться без служанки. Похсещение туалета или адьюльтер были крайне затруднены. Дамы вынуждены были терпкеть, или носили с собой (служанки, конечно,за хозяйкой носили)- специальные сосуды типа уток, я их как-то показывала.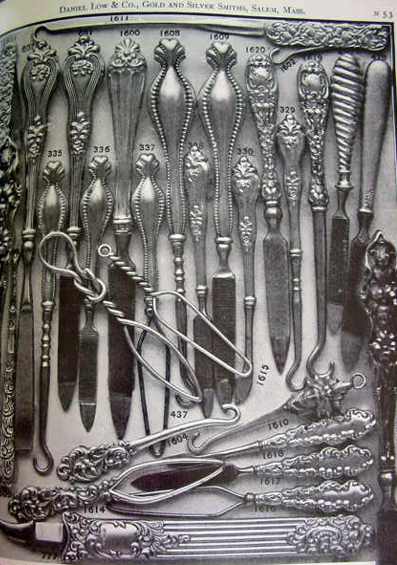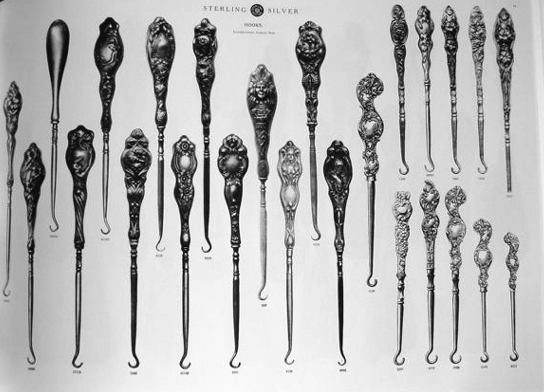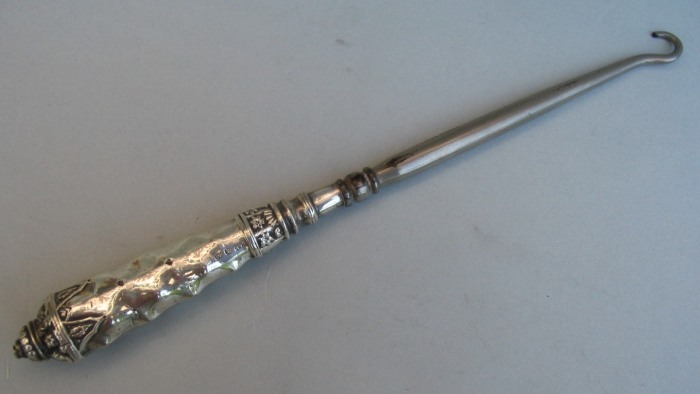 рожок с крючком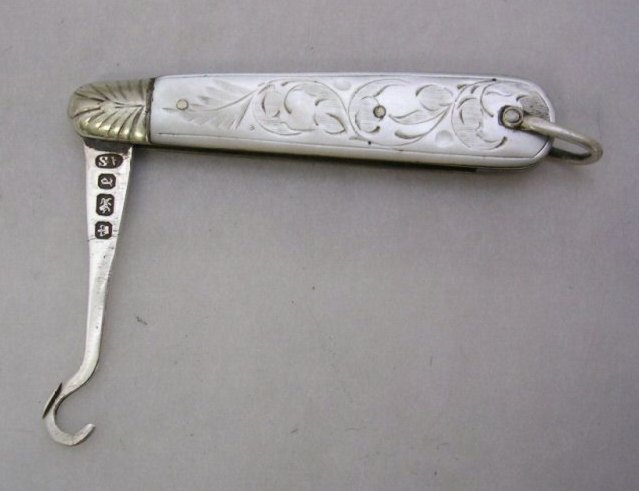 Распрямители перчаток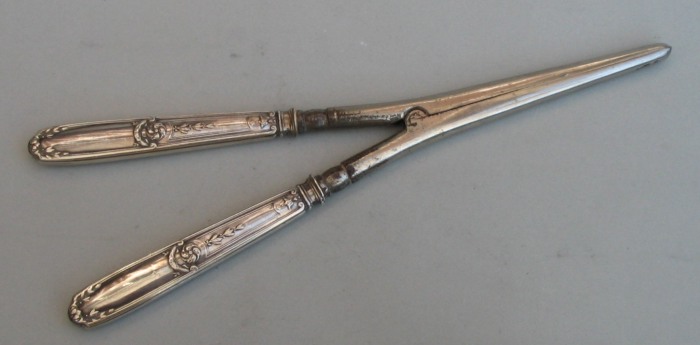 Ящичек для перчаток-
Antique Bronze Victorian Glove Box with a beautiful tufted and pinned cushioned royal blue satin lining, measuring 10" long x 3 1/2" high x 3 1/4 deep.
--------------Одежные щетки-------------------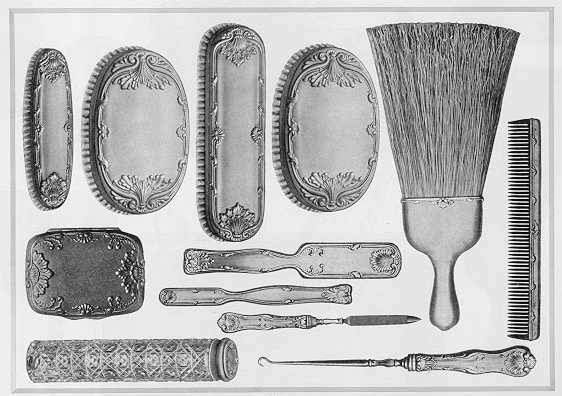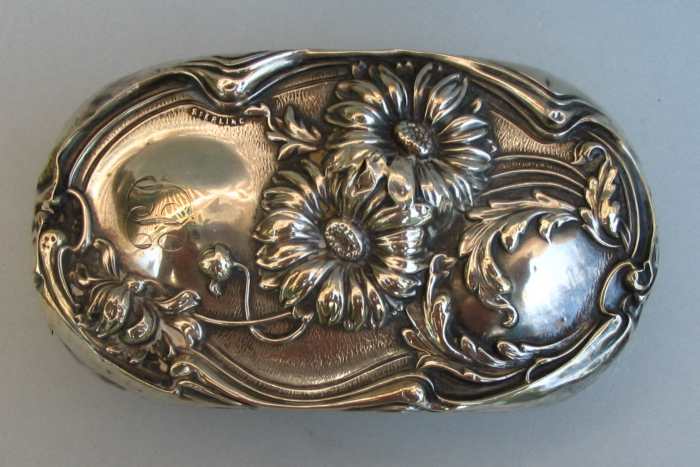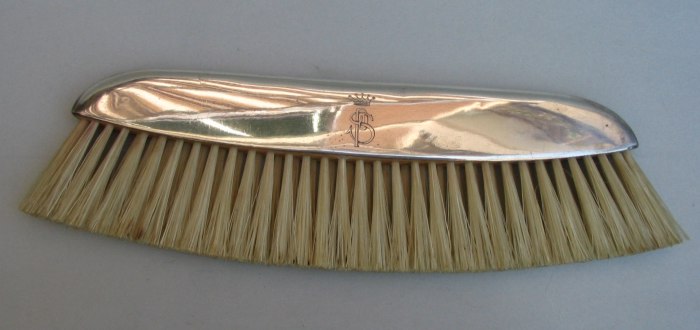 Sterling silver and tortoiseshell brush set, hallmarked for Birmingham 1930
England
Pair of tortoiseshell and sterling silver gentleman's hair brushes, with the initials 'LPG'
England, circa 1900
Sterling silver brush with 'Gainsborough Angel' decorations, hallmarked for Birmingham 1905
England
Original baby's brush and hair comb with an inset of a butterfly wing scene framed in silver, with its original box and hallmarked for Birmingham 1928
------------------МАНИКЮРНЫЕ НАБОРЫ-----------------------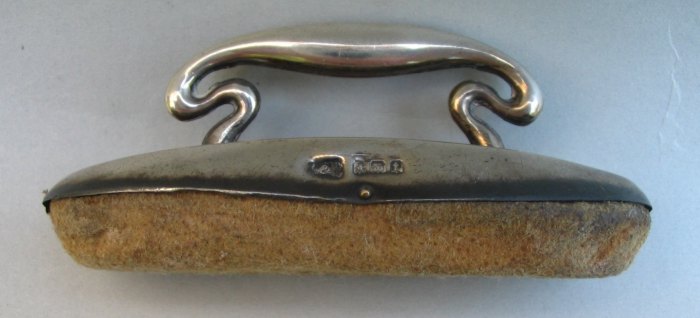 Щеточка для полировки ногтей
Boxed manicure set
Germany, circa 1930
Xylonite manicure set, with a suede covered buff
circa 1925, 7 cm high, 15 cm wide
Sterling silver manicure set and stand, hallmarked Birmingham 1932
England, 13 cm high, 10 cm wide
Sterling silver manicure set in original box, marked 'Dunklings Melb.'
England, circa 1910,
Boxed sterling silver manicure set made in Birmingham, 1942
England
Ladies cut glass manicure set
Germany
Lady's musical manicure set
Germany, circa 1900, 24 cm wide
Cased set of three Helena Rubenstein facial and manicure conditioning instruments, all complete and all in very good original condition, patented in Russia
European, circa 1900
Manicure set 'Stewart Dawson & Co. Regent St'
circa 1920
ПОЗОЛОЧЕНЫЙ НАБОР
Early gold plated manicure set in leather case
Australia, 10 cm high, 24 cm wide, 17 cm deep
Petit point manicure set
Australia, circa 1935, 18 cm high
Manicure set in decorative case with mirrored lid
-----------------НЕСЕССЕРЫ-серебро------
----------
Travelling walnut and leatherette vanity set, with a secret drawer and its original glass containers
England, circa 1910, 11 cm high, 30 cm wide, 22 cm deep
Boxed five piece sterling silver brush set, hallmarked for Birmingham 1926
England, 40 cm high, 22 cm wide
Fitted leather covered travelling dressing box, complete with its original contents
England, circa 1890, 13 cm high, 23 cm wide
Personal grooming set, in a leather case, 800 silver
Germany, circa 1980, 24 cm high, 26 cm wide, 9 cm deep
Lady's travelling vanity case, consisting of a sterling silver brush, mirror, four assorted bottles, a clothes brush and a comb, hallmarked for 1933/34
-------------ДЖЕНТЛЬМЕНСКИЕ-------------
-------
A Cavalier at His Dressing Table 1631
Adriaen Pietersz. Van De Venne
(b. 1589, Delft, d. 1662, The Hague)
Мелочи
19th century gentleman's shaving case, nickel plated embossed tin and silk with ceramic shaving mug, ivory and steel puritan razor, shaving brush and moustache scissors, c. 1880-1900.
France
мужской сет.
Sterling silver gentleman's travelling toiletry set, including a large fine quality, silver cased fob watch
England, circa 1910
Patented 1901 'Gem Junior Razor' in its original box
Sterling silver shaving brush, hallmarked for London 1835
England
Combination brush and comb, made of horn with a mirror inset into the back of the brush
England, circa 1910
'Dorko' cased cut throat razor
England, circa 1920
Черепаховый сет
Gents shaving set in faux tortoiseshell
Australia
'Gem' razor, in its original Bakelite box and complete with instructions
England, circa 1915,
'Stropax' razor sharpener
circa 1910
Metal shaving jug
, circa 1910, 8 cm high
'Laurel' lady's purse size razor, made of metal and Bakelite, comes with spare blades and its original tin
England, circa 1930
Solingen straight razor, with an impressed peacock on the blade, and an embossed peacock on the celluloid handle
Germany, circa 1920
Imperial silverware (EPNS) shaving bowl and brush, with a ceramic liner and its original label
England, circa 1920
Stainless steel two piece razor, in a Bakelite box marked 'Gem'
England, circa 1912
Solid ebony gentleman's eight piece dressing set, all marked 'Ebony'
England, circa 1900
Boxed pair of Solinger cut throat razors with marble cases
circa 1920
Faux tortoiseshell man's folding shaving compendium with a milk glass insert
England, 22 cm high
Chrome plated manicure set with a lead Scottish terrier figure
England, circa 1930,
Sterling silver gentleman's travelling toilet set, hallmarked for Birmingham 1911
England, 18 cm wide
Men's leather cased manicure set with most pieces stamped 'P. Feilring, Solingen'
Germany, circa 1930
--------------картины-------------------
Woman with a Mirror
Tiziano Vecellio (Titian)
(1490-1576)
TERBORCH, Gerard
Lady at her Toilette
1660
Oil on canvas
Institute of Arts, Detroit
A lady at her toilet in an interior 1762
Abraham Hendrick van Beesten
(1696-1773)
Pietro Longhi
[Italian Rococo Era Painter, ca.1702-1785]
Woman Before A Mirror
Luis Alvarez Catalá
Spanish painter born 1836 - died 1901
In the Bay Dressing for Dinner
W. Lloyd
статья здесь
http://marinni.livejournal.com/275992.html